Dealing with blogger's block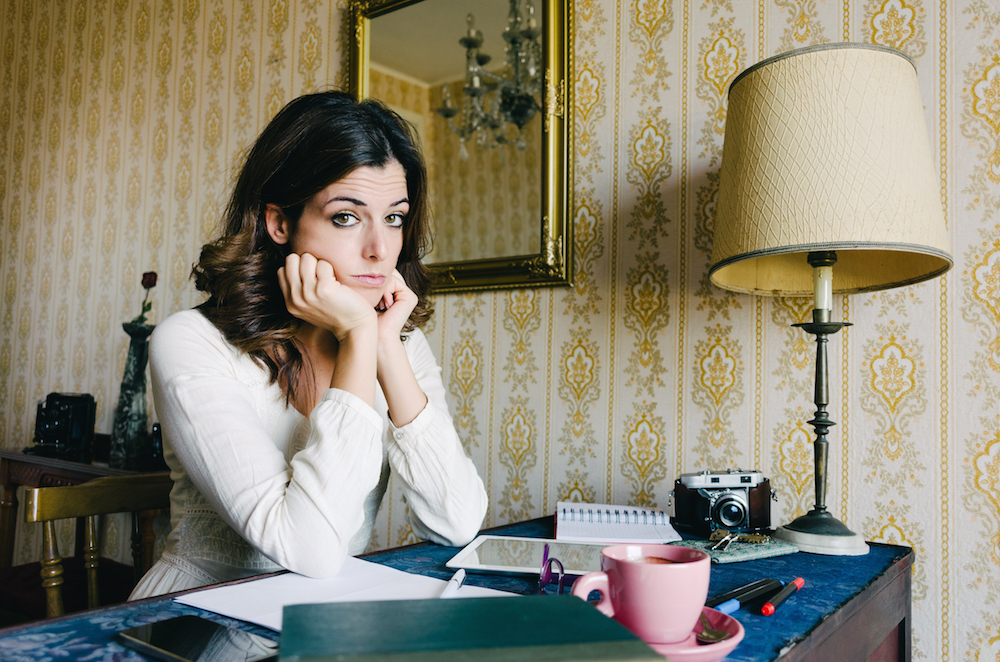 You haven't written a blog post in a while, it's time to bang one out, you need to touch base with your readers soon, you know if you leave it any longer they'll forget who you are.
But damn it, you've got no idea what to write about.
You start looking around the room for inspiration, you wonder what your readers are dying to know about. You think about the things you've been reading and seeing online lately, you smile as you remember that cute kid who swore after her ice bucket challenge. You check your emails. You check your Facebook. You google a recipe for jalapeno beans and write a list of groceries you'll need for tonight's dinner.
Still nothing.
You slowly admit defeat, you've got bloggers block.
Bloggers block is way worse than your ordinary garden-variety writers block because there's just so much more to get blocked up about.
You have to come up with interesting and relevant topics, offer smart and well thought out content, and create sharp and pithy headlines.
Then you have to think about SEO, images, research, typos, grammar, links, and of course, you also have to be original. It's enough to make you question why you ever started blogging in the first place.
But you know exactly why you do it. It's because you want to create a community of amazing like-minded babes, share your unique talents with the world, and rock out in your very own little awesome corner of the internet.
So, here's a few ways you can get unblocked, and get your blogging brilliance back on.
Wait until you really have something to say
It's easy to feel blocked up when you're sitting around putting pressure on yourself to get something great out there. Get up, leave your desk for a while and do the things that fill you up with inspiration Go for a run or a walk with the dog, read (just for fun), watch a movie in the middle of the day (I know, sounds so delightfully naughty doesn't it!), visit or skype with a friend you don't talk to often, these can be the best conversations to get re-mojo'd because they can often bring a fresh perspective leaving you feeling energised and focused.
Just start writing
When you're finished doing whatever it is that helps you get recalibrated sit down and just start to write. Jot down whatever comes to mind, you'll either be crystal clear right away or things will start to flow out of you as you go along. Give this a go, it really works.
Take notes
Write down ideas as soon as they come to mind. Keep a notebook with you wherever you go so you can jot things down straight away. I have one next to my bed, in my bag, and on my desk. I'm even considering putting a white board in my shower because that's seriously where most of the best ideas pop into my head!
It's not about you
Think about what can help your readers, it's not ever about you. Think of each blog post as a way to share your stories to help others. If your story doesn't inform, educate, or entertain your readers in a valuable way then reconsider what you're writing about. It really is better to not write a post than to push something out that feels self absorbed or irrelevant.
Keep it short
You'll soon start to feel overwhelmed when you view every piece as having to be a long opinion piece. Keep them short, sweet, and to the point.
Get chatty
Talk to your peeps on your social channels and see what they want to know about. Ask questions, see what they're talking to each other about, jump over to social pages of other great bloggers you admire and see what topics come up in the comments, you might just hit on something that you know a lot about that you can share easily.
Guest bloggers
This one's a no-brainer. Having someone else to fill your shoes for a bit takes the pressure off and also gives your readers some fresh content. Contact other bloggers you admire by email and ask if they would be interested in sharing a post with your readers. You'll be surprised how generous people can be especially if they're approached in the right way.
Plan ahead
One of the best ways to avoid feeling stuck and lost for words is to be prepared ahead of time. When you're feeling super inspired, write as much as you can, even if it's just a rough draft or dot points, and put it aside for later.
For more bloggy inspo and awesome ideas for getting your blogging brilliance back check out these great posts by some of my faves:
In the comments below, let me know what inspires you to blog – GO!