How to Write The Perfect About Page (+ a handy template)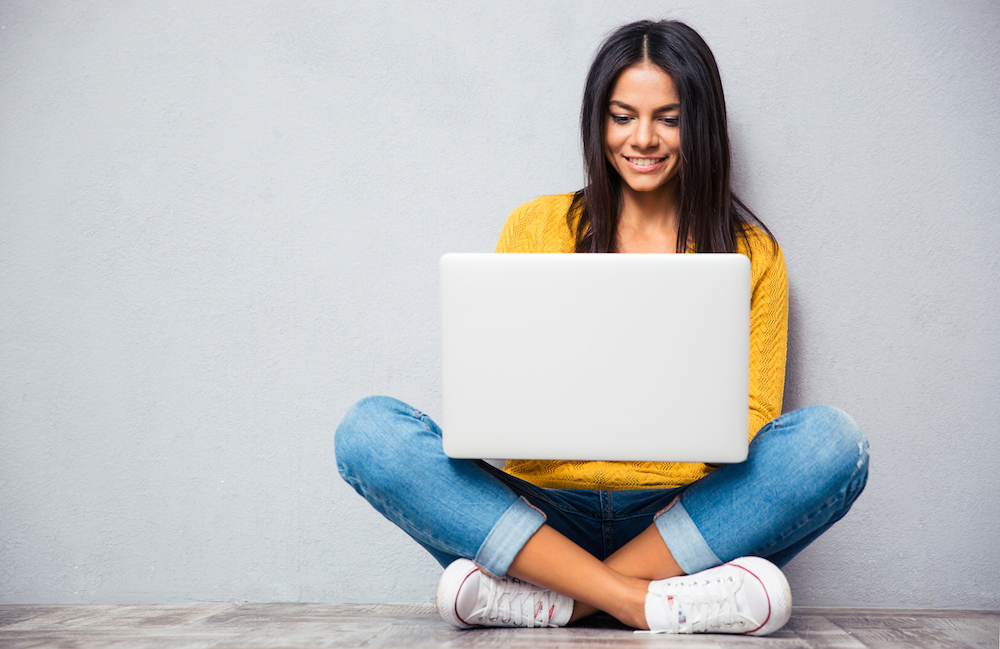 You've just stumbled upon a gorgeous website. You love the design and the way it feels. You want to find out more about the business and the people behind it.
Where do you go next? Yep, straight to the About page.
If a homepage is the storefront for your business, then the About page is your staff kitchen, or the water cooler (where all the very best conversations happen). It's one of THE most visited pages on any website, so it's really important to get it right.
It introduces you to potential clients, lets them know they're in the right place, tells them why they should care about you and shows them how you can help them. And, as with all introductions, a good first impression will make you memorable.
But as you've probably already discovered, it's really not that easy to craft the perfect About page.
There are certain elements that need to be addressed in just the right way or people will get confused, overwhelmed or bored and click away from your site, probably never to return again.
It takes time and careful thought to develop a compelling, interesting and highly effective About page – and time (or lack of it) is the main reason most of us put off writing this super important page.
Well all that procrastinating stops now. I'm going to help you get a perfect About page finished, today.
I've put my best tips together so you can finally write an About page you can feel proud of – and more importantly, one that keeps your readers sticking around.
Here's what we'll cover:
+  The big 5, why they're so important and how to use them
+  How to fix your reader's problems
+  How to get your reader's attention
+  Why no one is really that interested in your big story
+  Understanding your readers and getting them to take action
I'll also show you some fabulous examples of About pages doing errythang right.
Aaaand, as an extra bonus, there's a template at the end of this post which you can download for free and create a perfectly crafted, cleverly written, super concise, and brilliantly compelling story all about you!
You're welcome.
Ok, make sure you have a pen and paper to take notes, and let's get started….
The most important thing you need to remember when writing your About page is that it's not about you, it's about what's in it for the reader, but more on that later…
Five things you just can't do without – aka, The Big 5
There are certain elements that are nice to have on your About page and some that will make you sound funny, clever and interesting. But there are five non-negotiables you simply can't do without.
Your About page has to include the who, what, when, where, and why.
A sixth one might be, how – it might not start with a W but it's just as important.
Firstly, jot down some brief notes for each of the following:
// Who are you? What do you stand for?
// What do you do? How do you make money?
// When did you start doing what you're doing?
// Where is your business located?
// Why are you doing what you're doing? What inspires and motivates you to do what you do?
and another one might be…
How are you doing what you do?
Ok, so we've got the basics down. Now here's where you need to go deeper. This next part will help take your About page from a vanilla snooze fest to something that really resonates with your readers and gets them interested in what you've got to say.
What do I do for others, what problem do I solve for people?
So we've established that it's not actually about you at all. It's about them. People ultimately want to know how you can help them. Sure, they want to know about you too but make no mistake, it's so they can ascertain if you can help them, if you understand them, and if you can fulfill the needs and wants they have.
Keep it simple, keep it really focused on how you and your product or service, can help your reader.
So for example, if you're a photographer who specialises in family portraits then you might focus on things like:
+ your understanding of the need to be flexible in any situation that comes up
+ your philosophy of working with the needs of the individual family members
+ your consideration of things like nap times, short attention spans and the need for snacks
Make them feel understood
To really drive the message home that you understand the challenges your ideal client has, and that you live in their world, you might even offer a little anecdote about your own (or your sister's/friend's) children needing snacks and regular drinks or they get grumpy.
So you could mention that you bring toys, props and snacks to help avoid potential meltdowns and you can be super flexible with the timing of the shoot.
Illustrating an understanding of your ideal client's perceived issues (which are ultimately blocks to the sale) in a totally down to earth, and relatable way, helps build trust.
Top tip
Tell them about yourself but always tie it back in some way so it relates directly to your target audience and fulfills their needs and wants.
Who am I talking to and how do I know if they're listening?
This is one of the most important things to think about when writing your About page and also when developing the content for the rest of your website.
Who is your target market?
Ask yourself, what do my readers want and need from me? Why are they coming to my site in the first place? What are their hopes, fears and desires? If you can't answer those fundamental questions then you'll need to go back and spend some time doing your market research.
Spend time getting to know your ideal clients more intimately so you can really connect with them. When people feel understood they're a lot more likely to listen to what you have to say.
What's my story?
How did you get here? How did your business get here? What are you known for? What do you want to be known for? All great questions, and ones that need to be addressed but again, it's NOT about you.
So if you're a jewellery designer selling your bespoke pieces online don't make your story a really long winded account of everything that's happened to you in tedious chronological order ever since you decided at eight years of age that you wanted to make jewellery because you discovered you had a real knack for making daisy chains for your friends and they were willing to pay you in lunch money….
I'll give it to you straight, no one cares, except maybe your mum, but she's not your target market, so let's move on.
Keep it short, concise and relevant for your audience.
Tell people your stats. This creates and establishes credibility right from the outset. For other bloggers wanting to partner with you, advertisers looking to work with you, or potential clients seeking reassurance that you're an expert in your field, they can see that you have X number of subscribers or followers or that you've been featured in XYZ publication or published on ABC blog.
Use your authentic voice. If you're usually pretty silly and fun loving, infuse that into your copy. If you want to establish your credibility and position yourself as an expert you might use a more serious tone but you still want it to sound like you. Even if you're dealing with serious issues on your website people still need to be able to relate to you so the tone should be professional but still conversational.
One important rule to remember, never lie and don't be tempted to exaggerate any of your knowledge, skills or experience. If you get caught out you'll not only look foolish, you'll lose the credibility you've worked so hard to establish.
Testimonials are another great way to build your credibility in the eyes of your audience and to help establish trust.
If you're new to the online business world and haven't yet had enough clients to give you testimonials, consider offering to do some work for someone for free in exchange for one, it'll be worth it in the long run.
Your WHY
Your WHY is a one-sentence statement describing the reason your business exists. It's used to help guide decisions about your priorities, actions and responsibilities to your clients. This sentence is so important and can be used in your About page and anywhere else you might need a strong but succinct paragraph about what it is you do, and why.
So someone producing an ebook with recipes for fussy toddlers might have a mission that goes something like this, 'to bring peace of mind to busy parents by providing kid-tested, easy to prepare, nutritious recipes.'
How do my ideal clients want to feel?
At the centre of your business lies a benefit for your clients. An example of this is outsourcing your accounts to a professional bookkeeper, the benefits include:
You now have more time to work on your business not in your business
It's done accurately which means you will avoid potentially heavy penalties
An experienced professional can find areas for improvement in the business
How does that benefit make your clients feel?
More time – feeling of freedom
Accuracy – feeling of security
Experience – feeling empowered
To find the benefit your business provides, start by asking yourself 'what is the core of my business?'. Then ask yourself, 'what do I really do or want to be known for?'
Think about it this way….
A photographer doesn't just take your wedding photos; they capture irreplaceable precious memories to last a lifetime.
A wellness coach doesn't just give you information on counting calories; they provide one-on-one support so you can become a healthier, more vibrant version of yourself.
A graphic designer doesn't just provide colour and graphics; they add a whole new level of quality and professionalism to your website and marketing materials that you couldn't easily reproduce yourself, saving you time, and making you look good.
What feeling do you want to provide for your ideal clients?
Call to Action
How to get your readers to take action
What do you need readers to do once they're on your site? The 'call to action' is a very important, yet often overlooked, aspect of About pages.
Don't miss your opportunity to tell your visitors exactly what you expect them to do. For example, link to other pages, invite them to sign up, or tell them about your latest product or offering.
Be clear about what you want people to do and don't be afraid to ask.
A final word about Abouts
Make sure you use your real name ('The disgruntled housewife' isn't going to cut it'), a good quality, high res image of yourself and your contact details, or a link to the contact page.
This is your chance to make a super first impression, and you don't want to blow it.
Make sure there are no typos, employ a copywriter if you have to, or at the very least get someone you know with good literacy to run their eye over it for you. Just as the look and feel of your site is important, so is the copy. It should be clear, clever and easy to read because according to the stats, people only stay on a webpage for less than a minute, so you don't have much time to catch their attention.
Convince visitors to your site that you know exactly what they want and need, that you understand them, and that you can help them, and do it quickly! Oh and that you are awesome, hot, funny and someone they want to have a coffee with. Easy, right?
Here are some examples of About pages doing aaaall the right things.
The Greats  are a men's online shoe company in the States. Their About page cleverly starts with a story about why their target audience should care, and then it draws you in even further with a high quality short video that's funny and engaging.
Shae Baxter is a clever clogs SEO guru so it's no surprises that her About page has found it's way onto this list. What I love most about her page is the tone is super conversational. She's an 'SEO Coach super queen' which really means, a complete tech nerd but instead of sounding all serious and jargon-y she sounds friendly, relatable and super easy to understand. Her own personal story is woven throughout while still directly addressing the pain points of her target audience. It feels like a conversation and makes you want to keep reading.
Andrew Reifman has done a really cool job with his About page. It's not the longest About page but at a glance you can see exactly how he can help you. He's incorporated his quirky fun loving personality with his photo and some funny facts about himself but the page is cleverly designed to help you know immediately if you're in the right place or not. And even if he's not your guy, the page is still memorable because it's visually simple and pleasing and incorporates a whole lot of personality.
And now it's BONUS time!
Take your answers from the notes you've been scribbling while reading this post (you haaaave been taking notes, yes?), download the template and use them to shape your own version of About page perfection.
Just so you know, this isn't a fill in the blanks and print kind of template, you'll need to tweak it and make it your own (it is your About page after all, and no one is you-er than you).
You can download your About Page Template right here!
I'd love to know what you thought of this post, and if it helped you to craft an About page that feels right for you. Better yet, put the link in your comment, I'd love to see it.
If you still need help hit me up, I can create a beautiful about page for you. Or if you've done one but it needs a bit of a polish I can edit it for you. Get in touch!