How changing this one thing in my business changed everything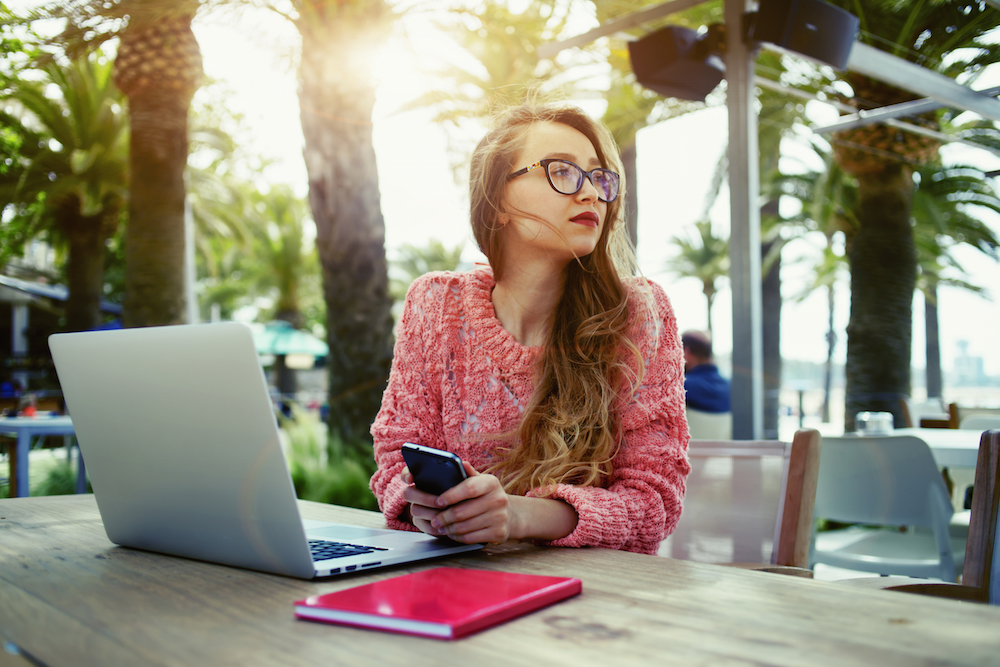 Starting my own copywriting business was hands down the best decision I ever made. It was also the easiest one.
I'd left my job in corporate communications to have baby #2, and we'd recently made the move from Melbourne back to Adelaide to be closer to family. An old friend got in touch to see if I could help her out with some of the overflow at her marketing consultancy.
So I said, "Sure, why not".
With surprisingly little effort on my part, the work just started to roll in from there. I wrote web copy for friends, picked up editing jobs through old colleagues and started scoring a few copywriting gigs through word of mouth.
I got myself an ABN, a gorgeous friend built me a website, and before I knew it, I was a stay at home mum slash freelance copywriter. Without even really trying I now had a small income and a (teeny tiny) business that kept me connected to the outside world, all while hanging out at home in my yoga tights with the smalls.
Life was sweet!
And, for a while, it was super easy. It fitted in perfectly around nap times and play dates, and gave me the creative outlet I desperately needed.
But as the girls grew older, and I had more time to devote to the business, I realised I wasn't being all that strategic about what I'd created.
I hadn't given any thought to my WHY or my WHO.
I was dealing with all sorts of different businesses, from travel agencies and carpet cleaners to meditation retreats and retirement consultancies, it was a real mixed bag.
At first, I saw this as normal, I mean…I was writing web copy, and every business with a website needs good copy, right?
But then something shifted. Things got harder. Putting together detailed proposals and quotes was time-consuming, and when a project didn't get off the ground, well, it was deflating, to say the least.
There were a lot of tyre kickers shopping around for the best price. Dealing with these people not only wasted a lot of time, it also had me running around broadening the scope of my services so I could fit in with what they were asking for (hello #peoplepleaser). Ultimately, I was putting in a lot of time and effort into enquiries that weren't converting into actual paying clients, and my income was reflecting that.
Now I wasn't the cheapest copywriter in town, but I certainly wasn't the most expensive either. I'm a friendly, relatable gal who loves a good chat (just ask my husband!). I had over a decade of web writing experience and a bunch of glowing testimonials from happy clients, so I was honestly baffled as to what I was doing wrong.
Then I realised one fundamental thing…
When it came to my own web copy, I wasn't talking to my ideal customer, I wasn't speaking their language.
In my attempt to appeal to a broad audience (read: anyone with a website), I was talking to everyone but not saying anything to anyone.
I'd been focusing so hard on helping others prune back their hedges and clear the overgrowth that I hadn't seen the weeds growing in my own back garden. My copy was too generic. Visitors to my site didn't know how to work with me and, even worse, potential clients couldn't see the real value I could bring.
As my business grew I hadn't stopped to think about who I could help with my specific set of skills, and more importantly, I hadn't thought about who I wanted to work with!
So I went back to basics.
I pondered what I really wanted my business to look and feel like, who I wanted to work with, and what it was all going to look like on a day to day basis.
After some soul-searching, a long chat with my mentor, and approximately three glasses of wine, I discovered this:
I want to help SMART, CREATIVE, ACTION-TAKING WOMEN share their message in a way that's HONEST and gets RESULTS.
Strong, capable, smart women who know how to have a good time.
Smart women who aren't necessarily looking for the best price, but are more interested in the best value.
Gutsy, courageous women who are in business to make an impact and generate more income so they can support their families and live lives on their own terms. #badasses
Does she sound familiar to you at all…? 🙂
I've had to shake off other people's 'blocks' around what I 'should' be doing in my business, that I 'should' take on any work that comes my way. I've also had to resist my own inner people pleaser who whispers in my ear that I should shoehorn my skills and time into every new project or 'opportunity' that comes through my virtual doors.
But when you say 'no' to clients that aren't right for you (and refer them on to another writer who will be a better fit) that's when you clear space for the real magic ✨
Freeing up your time and creative energy makes way for bigger and better opportunities to find you. The universe tends to look after us that way #tryitforyourself 😉
So how do you find your ideal client a.k.a. people who make work feel like fun?
Here's the exact process I went through. It's a simple, yet powerful way to hone in on your ideal client so you can start communicating with them in a way that connects and has them lining up to work with you, buy your thing and tell all their friends about you.
Describe your perfect client
Grab a pen and jot down all the characteristics of your dream client (hint: it could be someone you've already worked with and you had the best time doing it).
What are they like? Describe their personality
What do they look like? Man/Woman/Old/Young etc
Get a visual in your mind's eye and write it all down
Once you have a broad outline of this person, go a little further
What are their hobbies or interests?
What do they do on the weekend?
What do they read/watch?
What do they believe in?
What are their core values?
How do they see the world?
What inspires them?
Ok, let's take my #imaginary friend, Lauren, for example:
Lauren is a photographer specialising in on-location family portraits. When promoting her offerings she keeps her specific target market in mind and talks to this 'ideal client' through all of the copy she writes for her website and throughout all of her marketing touch points.
Lauren's ideal clients are:
Female ~ women are most likely to book in the session for the family
25 to 40 ~ she has babies/young children
High discretionary income ~ annual household income is +$100k
Married ~ she has a partner and/or wants a session with other close family members
Lives locally ~ she lives locally or has means to travel interstate/overseas for the shoot
Now that we know a little bit about Lauren's ideal customer (let's call her Kate) let's go even further and get to know Kate a little better.
Interests ~ she loves being outdoors with her kids, hiking, going to the beach
Values ~  she values family and spending time with her loved ones
Beliefs ~ capturing the moment and preserving memories is money well spent
And now we have a profile of Lauren's dream client:

She is a happy, healthy 30-something mum who sees great value in capturing the moments of her family's life and is happy to spend money doing it. She loves being outdoors and spending time with her family. She's fashionable and likes beautiful things for her home. She loves watching renovation and travel shows and is always on the lookout for ways to enrich her family's quality of life.
Now Lauren knows her ideal client a little better, she can write copy with her in mind.
If you can create copy that speaks to the type of people you want to attract, and if you can make them feel as though you're speaking directly to them, it will make all the difference to the way your reader responds to your message. Getting inside your reader's head makes you more relatable and makes your reader feel understood. It's the first step in building a trusting relationship.
People need to know, like and trust you before they'll be prepared to buy from you.
So now you have some questions to help you define your ideal customer, your homework is to work out who your ideal customer is.
Once you've got your dreamie in mind, choose one paragraph of your copy and read it out loud, does it speak to them? If not, rewrite it, and this time, do it just for that one person. Trust me, it'll make all the difference.
Here's to many, many more dreamies, for us both!
Amie xo
WONDERING WHAT TO INCLUDE ON YOUR
Download my sales page outline and follow the 10 simple steps to writing a standout sales page that sells.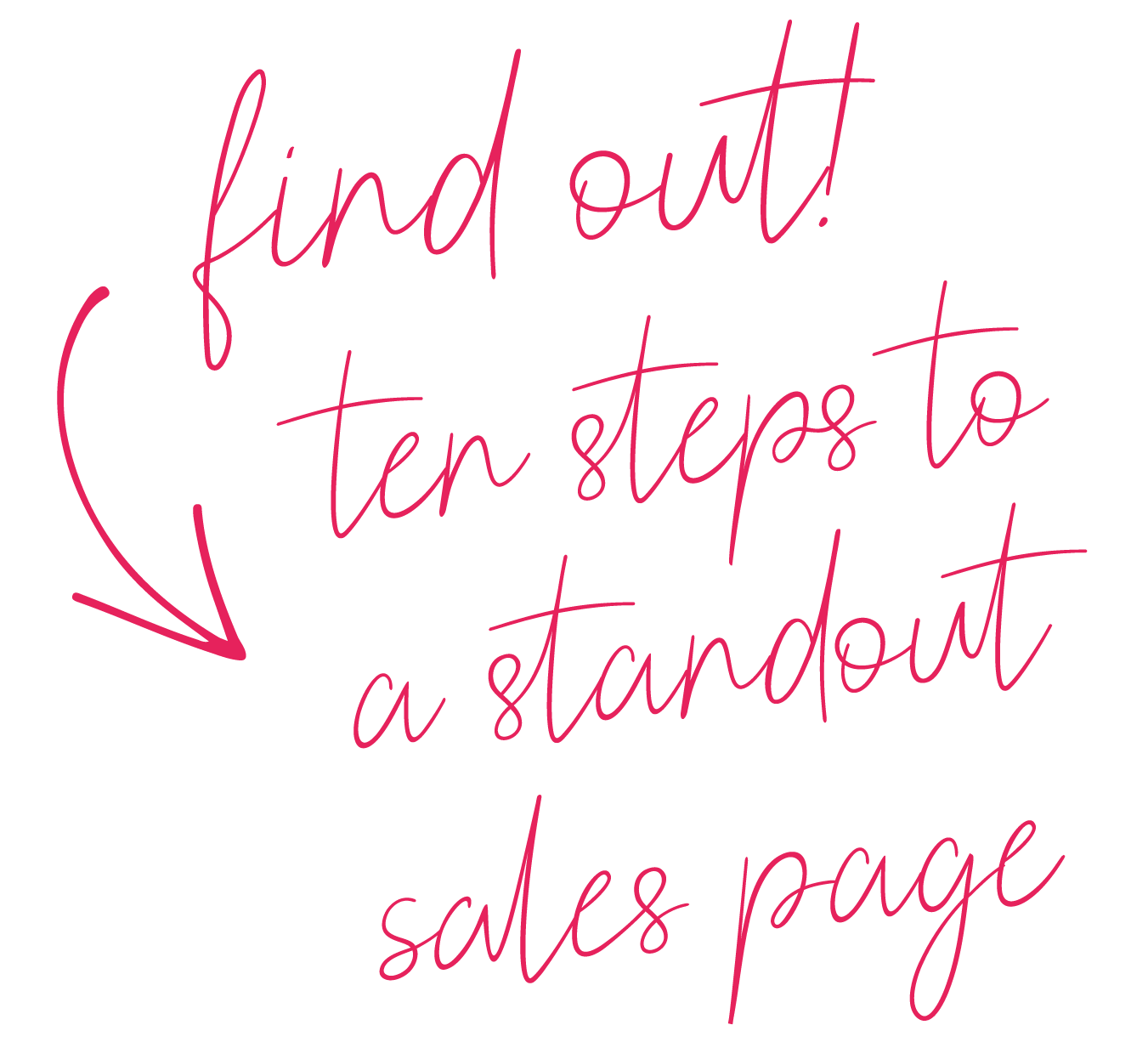 By entering your info, you agree to receive emails and promos from me (Yay!). Per my Privacy Notice, your details are never shared (ew) and you can unsubscribe at any time (honestly, no hard feelings).