How changing this one thing in my business changed everything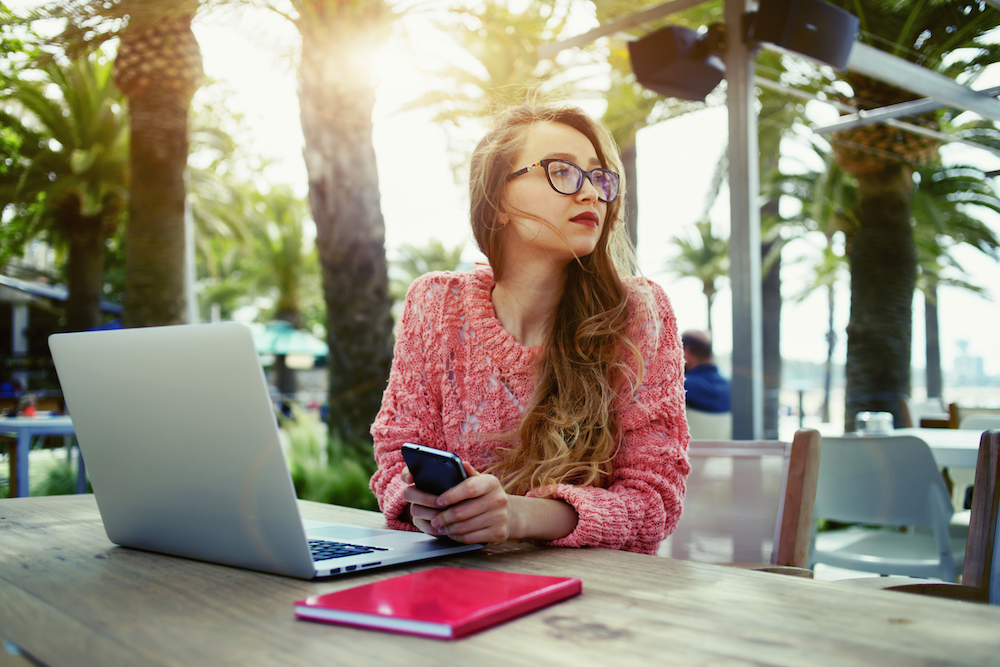 The decision to start my own copywriting and editing business was a no-brainer. I'd left my job in corporate communications to have baby # 2 and moved interstate to be closer to family. About a year after the move, an old friend got in touch to see if I could help her out with some of the overflow at her marketing consultancy. "Yeah sure, why not?" I said.
With surprisingly little effort on my part, the work just started to roll in from there. I wrote web copy for friends, picked up editing work through old colleagues and scored a few copywriting gigs through word of mouth.
I got myself an ABN, a gorgeous friend built me a website, and before I knew it, I was a stay at home mum 'slash' freelance copywriter. Without even really tyring I now had a small income and a business that kept me connected to the outside world, while I was at home raising my littlies.
This, I thought to myself, was too easy!
And, for a time, it was super easy. It fitted in perfectly with my pace of life and felt good on every level. But as the girls grew older, and I had more time on my hands to devote to the business, I realised I wasn't being all that strategic about what I'd created.
I hadn't given any thought to my why or my who.
I was dealing with all sorts of different businesses, from travel agencies and carpet cleaners to meditation retreats and retirement consultancies, it was a real mixed bag. At first I saw this as normal, I'm a copywriter after all, and every business can use a good copywriter, right?
But something was off. It felt like hard work. Putting together detailed proposals and quoting on jobs takes time, and when a project didn't get lift-off, well, it was deflating, to say the least.
Of course there were the usual tyre kickers simply 'shopping around for the best price' but I felt a lot of them actually did want to jump in. They were ready but something was holding them back.
Now I wasn't the cheapest copywriter in town but I certainly wasn't the most expensive either. I'm a friendly, relatable gal who loves a chat (just ask my husband!). I had excellent credentials and glowing testimonials from loads of happy clients, so I was honestly baffled as to why some of these proposals weren't getting off the ground.
What was missing? What didn't they understand? What hadn't I explained?
I took a good hard look at my web copy and realised one fundamental thing was missing.
I wasn't talking to my ideal customer, I wasn't speaking their language.
This was the very same problem I was helping my clients with, yet I had somehow completely overlooked it in my own copy.
In my attempt to appeal to a broad audience (read: anyone with a website), I was talking to everyone but not saying anything to anyone.
I'd been focusing so hard on helping others prune back their hedges and clear the overgrowth that I hadn't seen the weeds growing in my own back garden. My copy was too generic. Visitors to my site didn't know how to work with me and even worse, they couldn't see the real value I could bring.
Now this is a fairly common mistake that I see a LOT of people make, and one that I help them fix, all. the. time! Duh!
I got so caught up trying to help everyone that I wasn't really helping anyone.
As my business grew I hadn't given any thought to who I was best able to serve.
So I went back to basics.
I looked at the type of clients I really wanted to work with, the ones that I felt I could really help with my specific skill set. I thought about how I could really make a difference to my client's lives. Then I went inwards and asked myself, 'what would feel good, for ME?'.
I thought long and hard about WHO I wanted to serve and HOW I was going to help them. What would it feel like to work with peeps who 'got' me and I 'got' them? It felt wonderful to ponder. So the work began.
After some soul searching I discovered this.
I want to help smart, creative, wholehearted women in business share their written message to their community with confidence.
This is what I love doing and who I'm happiest doing it for.
I've had to shake off other people's 'blocks' and my own internal dialogue that tells me I 'should' be doing any and all work that comes my way because, bills. I should mould my skills and talents to suit every new client that comes through my virtual doors because, hello people pleaser.
So even though initially it might go against the grain to say 'no' to potential clients (or  politely refer them on to someone who'll be a better fit) that's when you clear space for the real magic to happen.
Freeing up your time and creative energy makes way for bigger and better things. The universe tends to look after us that way #truestory 🙂
So how can YOU find your ideal client?
Here's the process I went through, it's super easy and will make a big difference to the way your customers connect with you.
Describe your ideal client, be super specific.
To help you get a better picture of who it is you want to serve in your business, list out all the qualities your dream client might have. What are they like? Describe their personality? What do they look like?
Then think about:
Age
Income
Gender
Relationship
Location
Once you have a broad outline of the type of person you want to serve, go a little further to really discover who your ideal customer is.
What are their hobbies or interests? What do they do on the weekend? What do they read/watch? What do they believe in? What are their core values? How do they see the world? What inspires them?
If you're a visual learner, like me, here's a (fictional) example:
Lauren is a photographer specialising in family portraits taken in the family's favourite environment. When promoting her offerings she keeps her specific target market in mind and talks to this 'ideal client' through all of the copy she writes for her website and throughout all of her marketing touchpoints.
Lauren's ideal clients are:
Female ~ women are most likely to book in the session for the family
25 to 40 ~ this age group generally still have babies/young children
Middle class ~ she's a mid to high income earner with household income of $80k
Married ~ she has a partner and/or wants a session with other close family members
Lives locally ~ she lives locally or has means to travel interstate/overseas for the shoot
Now that we know a little bit about Lauren's ideal customer (let's call her Kate) we are going to go even further and get to know Kate a little better.
So let's go even deeper:
Interests ~ she loves being outdoors with her kids, camping or hanging at their local beach
Values ~  she values family and spending precious time with loved ones
Beliefs ~family is the most important thing to her, memories are cherished
And now we have a profile of Lauren's dream client:

She is a vibrant, enthusiastic and slightly sentimental 30-something mum who sees great value in capturing the precious moments of her family's life. She loves being outdoors and spending time with her family at the beach or on short getaways. She's fashionable and stylish. She reads home décor magazine and Donna Hay cook books. She loves watching renovation and travel shows and is always on the lookout for ways to enrich her family's quality of life.
Now that Lauren knows Kate a little better, she can write copy with her in mind. She knows what to say and how to say it, answering all of her objections before she even knows she has them because she knows what makes Kate tick.
As you can see, this exercise, if done properly, can make a dramatic difference to your copy and to the way your community connects with you. You'll be more relatable and your audience will feel understood. It's the first step in building a trusting relationship.
People need to know, like and trust you before they will be prepared to buy from you.
So now you have some questions to help you define your ideal customer, your homework, should you choose to accept it, is to work out who it is you want to serve. Once you've got a 'person' in mind, choose one paragraph of your copy and read it out loud, would your 'person' resonate with what you have already?
If not, you might need to review and rewrite your copy. Let me know how it goes!
Here's to many, many more dream clients, for us both!